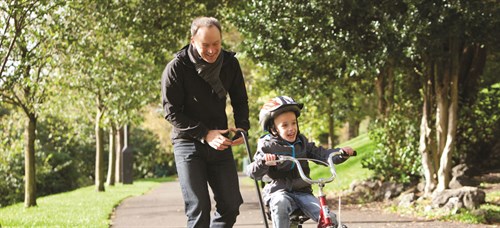 We enjoy being active, it makes us feel good and helps us to stay healthy. However for some people with disabilities excercise and the freedom of independent movement can be difficult to achieve. At TRIAID we are dedicated to providing adaptive tricycles and bikes which asssist disabled riders gain confidence, achieve independence and experience the fun of cycling. TRIAID is a company committed to designing and manufacturing tricycles for all levels of abilities, no-one should be left out.
TRIAID is a family owned and operated company located in Maryland for over 30 years. The company began when the owner and founder of the company who is an enthusastic cyclist and an engineer was approached by a local charity organization and was asked to assist them in designing a hand cycle for children with Spina Bifida, he embraced the challenge and created the first hand cycle designed specifically for children, thus was born TRIAID (Tricycle Aids to Mobility). From the very beginning we have always built our cycles by hand and have designed them around the rider, after all everyone is different, that is why our tricycles can be customized to the needs of each rider.
Cycling is a fun activity that can be enjoyed throughout a person's life-time. However individuals with disabilities are sometimes unable to ride either through difficulty in balancing and steering or through the effort of operating a bike safely. At TRIAID we believe strongly that all children and adults with disabilities should get the opportunity to ride a cycle. Over the past three decades our product line has evolved and now stretches to 17 models, all are designed with the same care and attention to detail, from frame colors to the selection of components, TRIAID trikes are built around the rider.
TRIAID has developed an unrivalled range of positioning accessories to help the rider maintain a comfortable and safe position to cycle. These supports are ergonomically designed to provide support only where the rider needs it, after all we want the rider to be seen, not the tricycle and its supports.
We welcome the input of therapists, families and most importantly the riders themselves, it is through this interaction that we learn and can continue to improve our products and services. Let us work with you to get more people with disabilities active and enjoying the freedom that cycling gives.