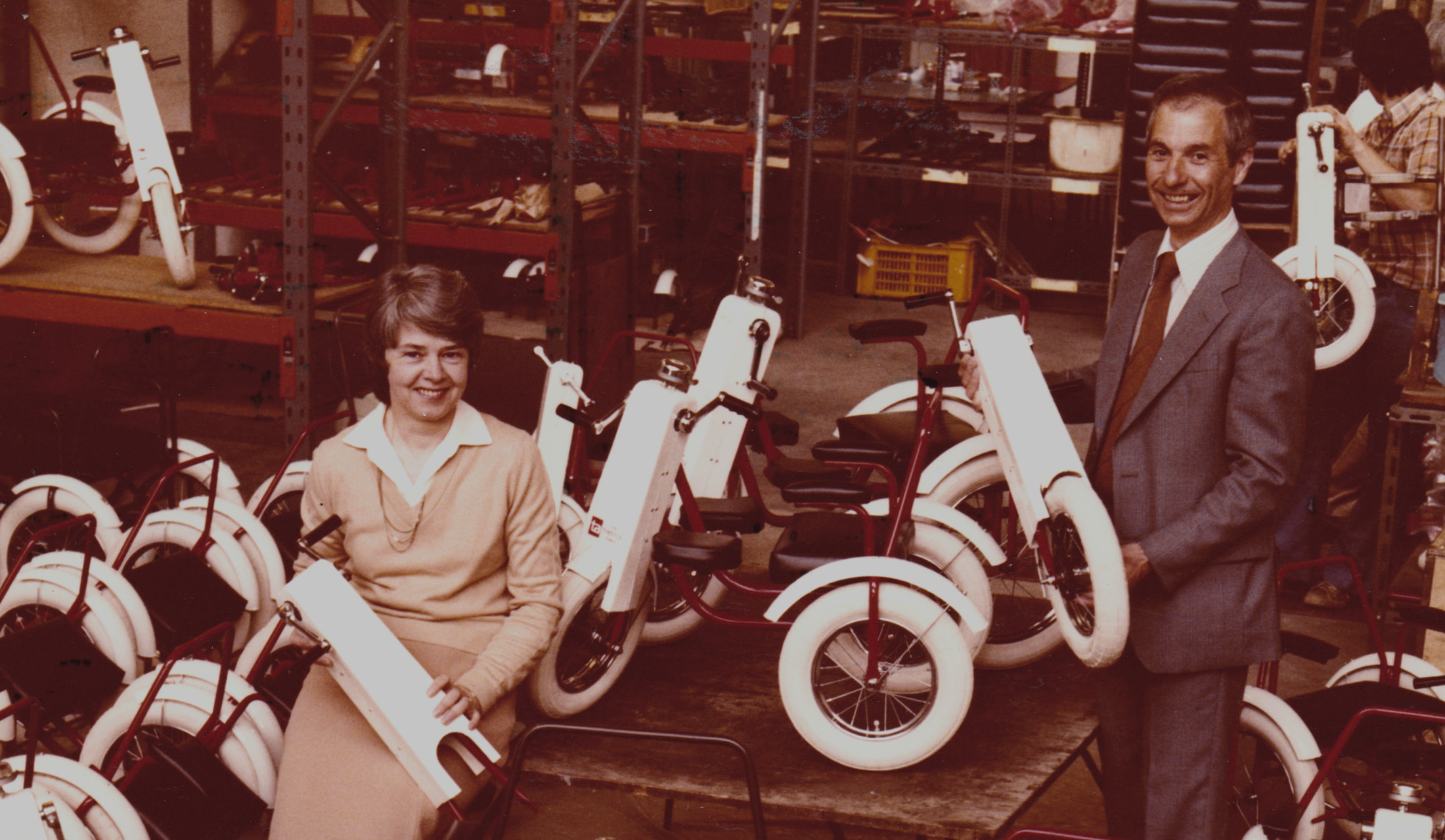 Picture taken in 1980.
Since our first hand propelled tricycle was conceived and produced for a local charity, TRIAID and its sister company Theraplay Ltd has sought to design and manufacture stylish cycles which are appealling to children and adults of all ages.
TRIAID is a family owned and run business based in Cumberlad, MD, we have now been designing and manufacturing specialist cycles for over 30 years. The founder of the company, Ian Macdonald is an engineer and a keen racing cyclist, although his racing days are now becoming a distant memory. After a number of years studying and building his technical experience he formed his own company in 1968 called Thistle Engineering, producing small precision components for multi-national companies. He was approached by a local charity working with children with Spina Bifida and was asked to design and produce a hand driven tricycle for the growing number of children with this condition, these cycles became known as Thistle hand trikes.
By the early 1980's the manufacture of cycles had over-taken the demand for precision components being manufactured so it was decided to re-name the company TRIAID Inc. (Tricycle Aids to Mobility), to reflect the company's growing involvement in the healthcare industry. 
As the company moved through the decade, new products were designed in response to requests from therapists and families. The key develpment came with the introduction of our range of foot propelled tricycles, the Terrier and TMX models in 1983, the IMP model in 1985 and the Tracker in 1988. These products have gone on to become the most popular range of tricycles for children and teenagers with special needs with over 30,000 cycles now having been supplied. These cycles were designed around the rider and the family. Storage and transportation were key considerations and it is for this reason that TRIAID cycles have the ability to fold, a handy feature when space is tight.
In 1986 Theraplay Ltd was established in Glasgow Sotland, this company is now the largest supplier of cycles for disabled riders in the UK.
Both companies continue to develop ideas incuding:
HITCH Tricycle/Trailer Combination so that the family can cycle together, 
Option Drive Gear which enables pedals to be disengaged when the rider needs a rest
T5 Tricycles for the more adventurous rider
TRACER models for a lower centre of gravity for enhanced stability
TUFF playground trikes for low maintence cycling in the yard or at recess
Swivel seat and quick release pedals for ease of access.
Swing away trunk supports for easier access
The products continue to evolve as a result of feed-back from our customers and therapsts. New processes and materials are also used to improved performance and improve the comfort for the rider.
We look forward to developing new ideas for the next generation of cyclists.